These Nutella Apple Cupcakes have the goodness of whole wheat flour and apples and the deliciousness of Nutella! What more can you ask for? 
Some Notes: 
Add more Nutella for the glaze (i.e if you have some left for doing the decorations, I had to satisfy myself with just one)
If you are wondering why there is no oil or butter, well yes this is an oil free cupcake!  Interestingly, this was a mistake and happened by default.  I forgot to put the butter that Purple foodie mentions in the recipe I used for inspiration, but seriously the muffins were so good that I am happy that I didn't use any butter. I guess the pureed apples provided the necessary fat to it and I also increased the egg by one, which meant the batter was of the right consistency.
I wish I had a picture of the crumb shot to show you guys and let you see how nice and soft it was, but as I mentioned above, it got over before I knew and this one was the only one I could glaze with some Nutella :)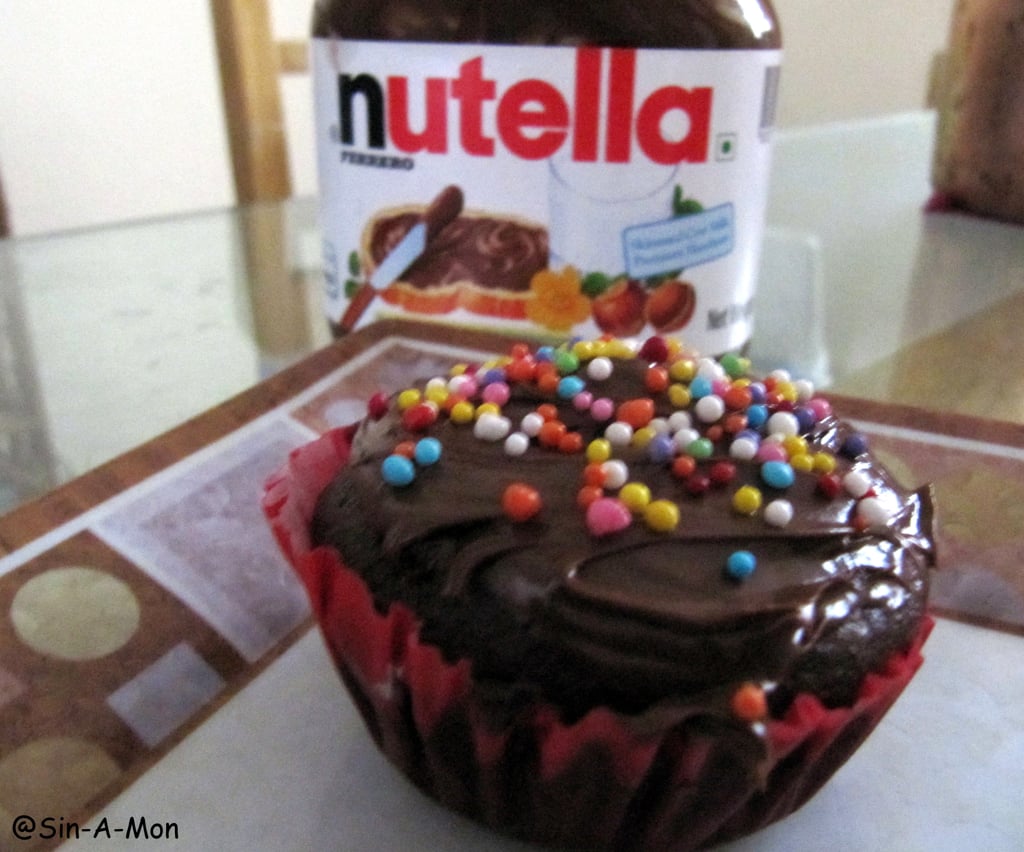 And with this we start another round of marathon, a 7-day marathon based on theme cooking and the theme that I have picked this time is the one very close to my heart! Yup, you guessed it right - It is Baked Goods :)
Please check out my fellow marathon bloggers who have picked up varied different themes to give you amazing dishes for the next one week.... Champa,Divya,Gayathri Anand,Gayathri Kumar,Padma Dharmaraj,Savitha, Smitha, Srivalli, Usha, Veena Aravind, PJ.
Also these muffins are off to Kids Delight - Restaurant Creations hosted by Champa originally an event by Valli and of course Champa's very own Bake-Off.
And also I am sending it to CBB - Celebrating Blogging & Bloggers.
If you make this, share a picture with me on twitter, instagram or Facebook? I would love to hear what you have to say about it !