Strawberry chocolate cupcakes which will steal your heart away! That pretty pink frosting with some sprinkles on it make these cupcakes the perfect dessert!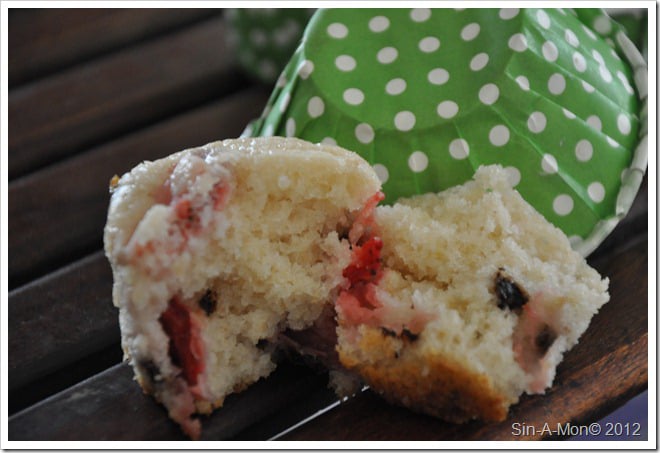 Just look at that crumb, soft moist and springy and this is the eggless one as I remember correctly.
Now that the you have had the cupcakes, I think I can gloat a bit too, I mean if I won't share my happiness with you readers, who will I share it with? The good news is that Sin-A-Mon has been getting a fair amount of media attention off late, both the humble blog and the business :), I have made a page to share all my media mentions. Stop over and look, leave a comment if you like and have a bite of these cupcakes with me to celebrate …
And here is the biggest one, the latest one… Yesterday's Times Life national edition carried a story on India's Saucy foodies and I was featured along with my favourite foodie Kalyan of the Finely chopped fame, Maria Goretti, Kajal Tejsinghani
You can read the article here and the link to the second page here
My phone didn't stop ringing all day, with tweets, FB messages, SMS and calls and we were out for a day trip to N's village with friends and it was a happy day yesterday, like Kalyan says couldn't stop beaming throughout the day but I think the best part of the day was when mom called after seeing the picture and I could hear a chirp in her voice after a long long time as she hadn't been well, it almost felt that this article has half cured her ;) Its funny how these small things create magic sometimes but then I guess mums will be mums.
And on that happy note, see you till next time. I have tons of things to post and this time I promise I won't just go away.
If you make this, share a picture with me on twitter, instagram or Facebook? I would love to hear what you have to say about it !